During a conflict with Everton fans, Crystal Palace manager Patrick Vieira seemed to kick out at a fan who appeared to be goading him.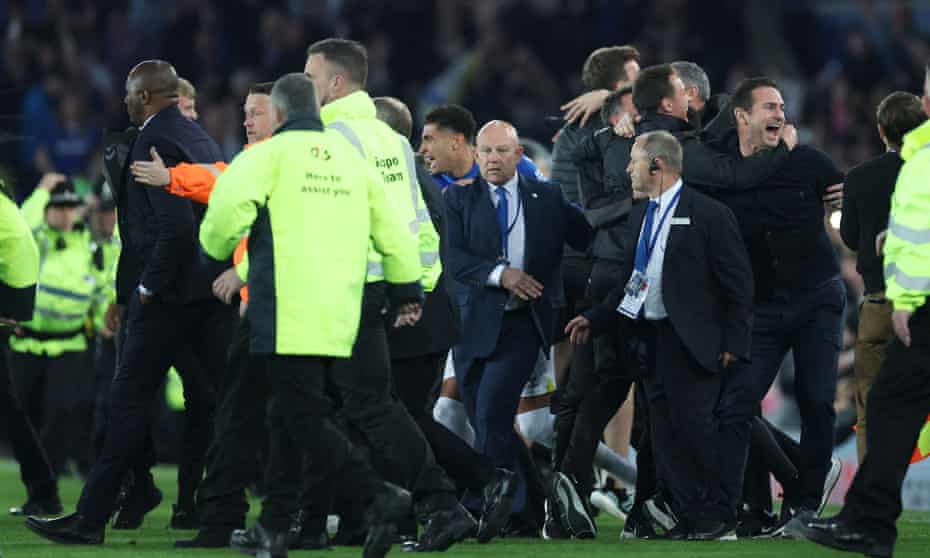 Everton fans swarmed the field as their club came back from a 2-0 halftime deficit to win 3-2 on Thursday and seal Premier League survival ahead of Sunday's final round. As Patrick Vieira attempted to leave the field, a fan, who appeared to be holding a phone, extended his arms at the Frenchman's face. Vieira then turns and tries to seize the phone with his right foot before kicking him. The fan was knocked to the ground.
After being questioned about the event, Vieira told reporters, "I have nothing to say on that." Everton manager Frank Lampard remarked, "I feel for Patrick." "At the end, I didn't recognize him. 'Come in with us,' I would have urged, though he might not have wanted it. He did run 80 yards across the pitch, which is not easy."
Dion Dublin says there must be firm action taken against pitch invaders after Crystal Palace manager Patrick Vieira was confronted by Everton fans as he was walking off the pitch at full time. pic.twitter.com/FFDhfSqFgv

— Sky Sports Premier League (@SkySportsPL) May 19, 2022
Sheffield United captain Billy Sharp was assaulted on Tuesday by a Nottingham Forest fan who had poured onto the field with others. The fan was sentenced to 24 weeks in prison on Thursday. Everton fans spilling onto the field were guarded by Lampard.
He remarked, "It was pure elation of fans who came on the pitch after surviving relegation." "If done well, they should be able to stay on the field and have their moment. No problem as long as they behave."
While on the sidelines for the game, former England striker Dion Dublin addressed the brawl between Vieira and the Everton fan. "We understand how ecstatic Everton supporters are, but you can't be doing that. You can't push managers and players about, groping them and screaming in their faces "On Sky Sports, Dublin stated.
"We know it was only one or two people who ruined it for the rest of us. Having spectators on the field is not the way to go. We must stop allowing or allowing fans to enter the pitch. It's far too risky."
Please check out the following website for further news articles:
Do check out our TikTok: