$4 Million assets has been returned out of the total from the heist.
Unknown Hackers just pulled off one of the largest cryptocurrency heists ever and now they appear to be reconsidering. According to The Block and CNBC, on August 10th, a hacker stole approximately $611 million in Ethereum, Shiba Inu, and other digital currencies from the decentralized Poly Network finance platform by exploiting a vulnerability.
However, less than a day later, the intruder sent a token indicating that they were "ready to surrender" and began returning millions of dollars.
So far, we have received a total value of $4,772,297.675 assets returned by the hacker.

ETH address: $2,654,946.051
BSC address: $1,107,870.815
Polygon address: $1,009,480.809 pic.twitter.com/bPFAQk4mvS

— Poly Network (@PolyNetwork2) August 11, 2021
It's unclear what prompted the change of heart, but the hacker may have been apprehended. Slowmist and other security researchers allegedly tracked down identifying information, such as an email address, an IP address, and the Chinese cryptocurrency exchange used by the perpetrator. If this is the case, the'refund' could be an attempt to avoid criminal charges.
As a result, the damage may be limited. However, this is one of the largest thefts in DeFi (decentralized finance) history, and it comes in a year in which such hacks had already totaled $361 million as of July. It may just shake the confidence of those who rely heavily on cryptocurrency exchanges.
If there's any consolation, it's that the technology used in the attack also made profiting from it difficult. According to Tom Robinson of the analytics firm Elliptic, it can be difficult to launder or otherwise cash out cryptocurrency without leaving a trail of clues — incidents like these may discourage attacks.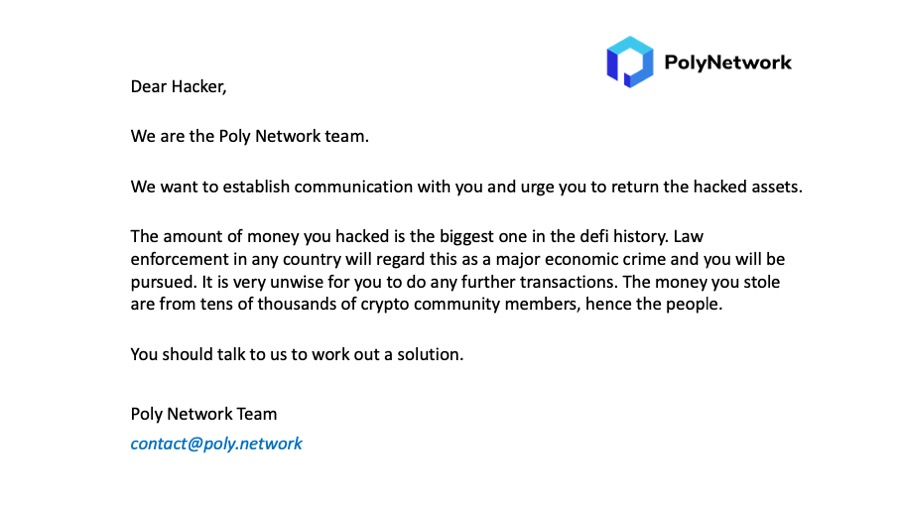 A day earlier, Binance CEO Changpeng Zhao stated that his company was aware of the hack, but that there was only so much he could do. He stated that the group was "coordinating with all of our security partners to help proactively."
"There are no assurances," he added. Poly Network is a decentralized finance – or Defi – provider that allows users to transfer tokens associated with one blockchain to another.
Please check out the following website for further news articles: